TITLE
Iridescent Creatures
CLIENT
Publicis Singapore on behalf of Nespresso
MATERIALS
Recycled Nespresso capsules, bioresin, glass beads, metal foil, brass tubes, chains
This collection is commissioned by Nespresso Singapore for their artist collaboration component of their 2018 sustainability campaign.
The brief was to create a series of functional products that showcases the myriad of possibilities of a used capsule.
Extracting aluminium strips from expired capsules
Iridescent creatures explores the dark yet mystical side of the underwater world. Iridescent fish scales constructed out of Nespresso's capsules are intricately tiled — a motif used throughout the collection, alluding to the orderly yet multi-faceted depths of the aquatic life.
"Fish scales" were treated to achieve iridescence
Piecing the pendants together
The collection debuts at Nespresso's pop up store at VivoCity from 20 April – 30 April 2018.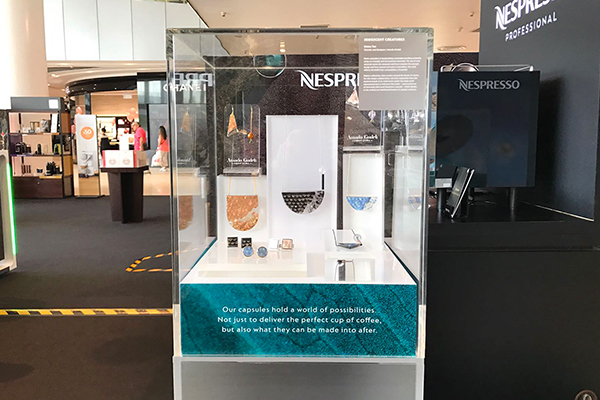 We are proud to be commissioned to produce this series of work, it being Nespresso's first time collaborating with artists.